PISSY pant-stuffing, SHITTY anal fuck, HUGE gape - With Actress: curvykitten92 [MPEG-4] (2017) [FullHD 1920x1080]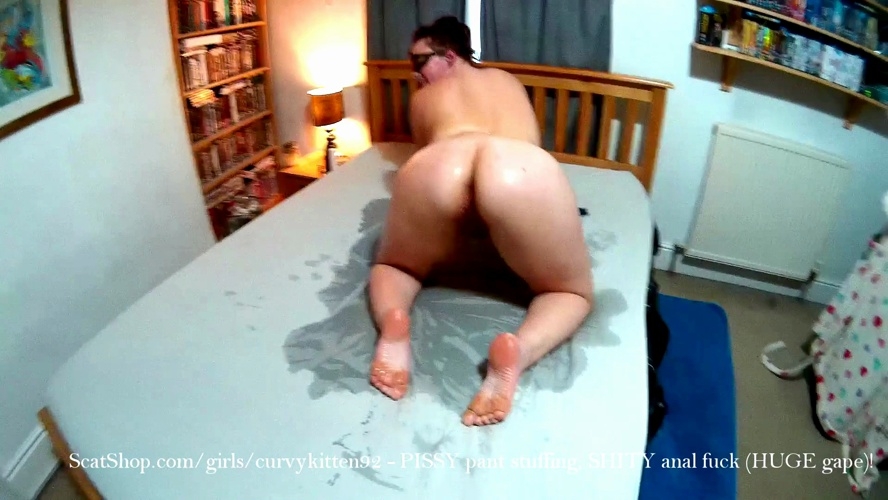 I have become the naughtiest piss slut ever! In this video: Sexy talk, huge puddles of piss, panty stuffing, anal beads, hardcore anal, HUGE GAPES, shitty anal, big cumshot
First I give you an amazing , sexy sleazy talk and tell you how much I want to piss my panties just for you. I bend over and you show you my sexy arse before I unleash a big puddle of piss, filling my knickers and soaking my hairy cunt.
I turn around and spray piss all over my bed, and sit in a huge puddle of my piss. It was so warm and yummy. I pull my panties aside and show you my hairy cunt and big throbbing clit. I bend over and pull my panties down, resting them on my little feet.
On my knees, I rub my pussy and shoot more jets of hot piss out. My arse is lubed up and anal beads pushed in. I piss more and more after cumming twice.
He stretches my arse with his big dick whilst he fucks me deep and hard. You can see my hole stretching around his cock whilst I cum.
He pulls out and his dick is nice and shitty. He continues to fuck my hole and then I show you my biggest gape ever! It is HUGE!
I lay down in my puddle of piss and he fucks my hole again whilst I shoot fountains of piss all over. He pulls out revealing a nice shitty hole. I am so close to prolapse and I can feel my butthole working its way out. Hehe!
He fingers my hole whilst I piss and we finish with him shooting cum all over my titties
Name Video:
PISSY pant-stuffing, SHITTY anal fuck, HUGE gape
Cast:
curvykitten92
Year Video:
2017
Duration:
00:17:08
Quality Scat:
FullHD
Format:
MPEG-4
Size:
1.86 GB
Download Clips Scat
Genres:
scat