Eat and smear shit my happy toilet - With Actress: Mistress [MPEG-4] (2020) [FullHD 1920x1080]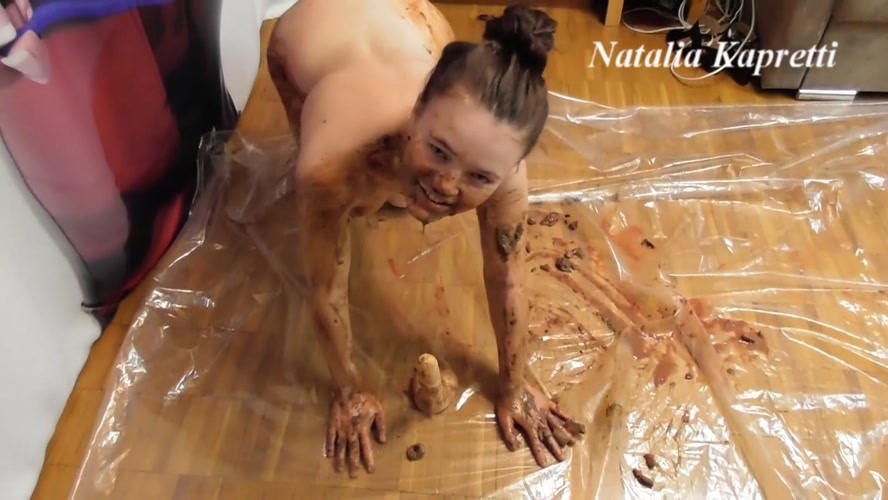 I trained my slave girl love shit, smear and eat it. And now she enjoys every second, eating shit, taking it in her hands and with pleasure smear it to her young beautiful body. Inhales the stinky fragrance and masturbates, cums.
1. My happy toilet all covered in shit
I want to shit so bad. Just managed to sit down and shit a powerful stream escaped from my ass right on the slave girl. I didn't I didn't have time to sit on her mouth, i shit on her belly, her breasts. But never mind, let she scoop up by hands and eat my semi-liquid shit. Lick my dirty ass, wipe it clean of shit. She is excitation, smiles happily, takes the shit in her hands. Starts smearing shit on face, neck, and body, tries to erase the remnants of her innocence. Caresses small breasts, here handful of shit going straight to her mouth, she wants to play. This slut playfully smiles, licks her lips, swallows my shit. She's so depraved, shit covers all body, chest. She squirms, posing, it's so erotic, so sexy. My happy toilet bitch enjoys shit
2. Be dirty toilet bitche is enjoyment
Be dirty toilet bitche is enjoyment, be dirty bitche is a paradise.
My toilet slave girl is happy when she's in shit. She has become so perverted bitches, that she shits and eats her shit, drinks her urine and vomiting with a smile on her face, enjoying all these dirty actions. She luxuriates in the bath smearing shit on her breasts, stomach, and perineum. Excited by the realization of what a lowered bitch she is. Masturbating and cumming jet. She is so happy, she is in her dirty paradise
P.S.: Write reviews my dear fans. Tell me what you would like to see
Name Video:
Eat and smear shit my happy toilet
Cast:
Mistress
Year Video:
2020
Duration:
00:23:10
Quality Scat:
FullHD
Format:
MPEG-4
Size:
1.87 GB
Download Clips Scat
Genres:
Mistress, Enema, Groups, Couples, Pee, Poop Videos, Scat, Smearing, Toilet Slavery